Places To Visit
Dilli Haat: An Exquisite Blend of Culture, Crafts, and Cuisine
Dilli Haat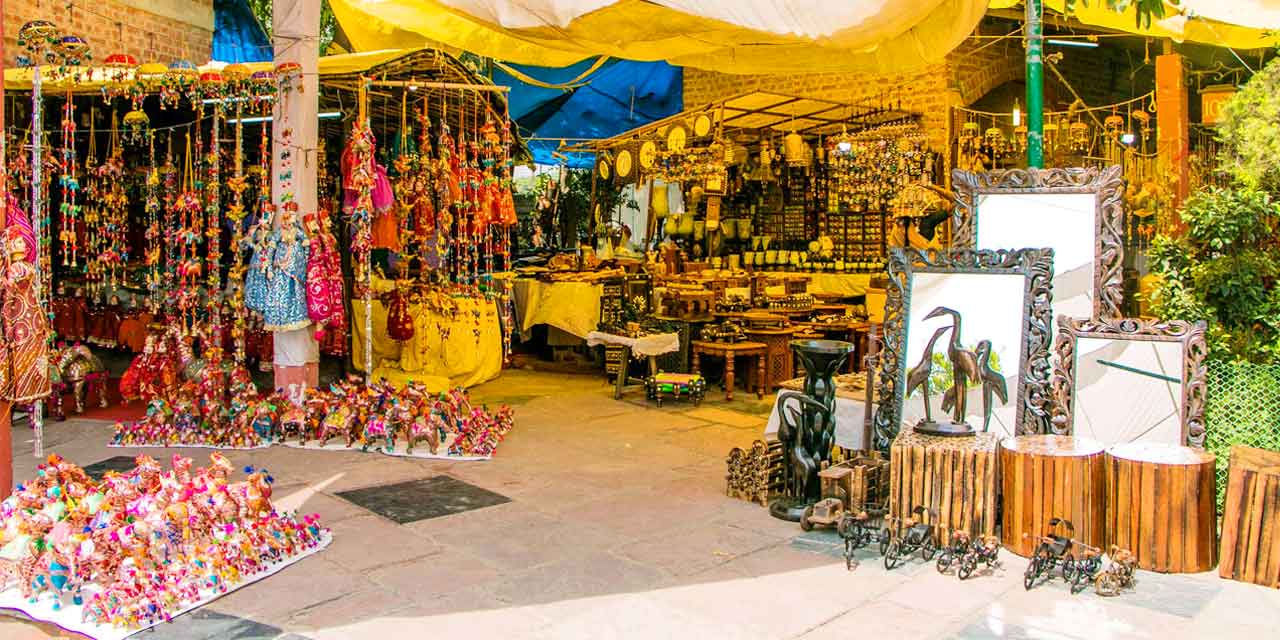 Dilli Haat, a vibrant open-air cultural and crafts bazaar, is a testament to India's rich heritage and diverse craftsmanship. Located in the heart of Delhi, this unique marketplace offers visitors a captivating experience where they can immerse themselves in the sights, sounds, and flavors of Indian culture. From traditional handicrafts to lip-smacking regional cuisines, Dilli Haat showcases the true essence of India.
1. History of Dilli Haat
The inception of Dilli Haat dates back to 1994 when it was established by the Delhi Tourism and Transportation Development Corporation (DTTDC) and the Delhi Urban Art Commission. The aim was to create a platform to promote traditional crafts, art forms, and cuisines from different parts of India.
2. Location and Accessibility
Dilli Haat is strategically located in the heart of Delhi, near the INA Metro Station, making it easily accessible for locals and tourists. Its central location ensures it remains a popular destination for anyone seeking an authentic Indian experience.
3. Architecture and Design
The architectural design of Dilli Haat draws inspiration from traditional Indian village markets, creating a rustic and vibrant atmosphere. The market is dotted with thatched roof cottages, each representing the unique architectural styles of various Indian states. The open-air layout allows visitors to explore and discover the diverse crafts on display.
4. Shopping Experience
Dilli Haat offers an extensive range of handcrafted products, including textiles, pottery, jewelry, wooden artifacts, and more. Each stall is operated by artisans and craftsmen who bring their skills and cultural heritage to life through their creations. The market provides a direct interface between the artisans and the customers, ensuring fair prices and preserving the authenticity of Indian crafts.
5. Cuisine and Food Stalls
One of the highlights of Dilli Haat is its food stalls that serve an array of regional delicacies from different states of India. Visitors can indulge in aromatic spices, savory street food, and delectable desserts, all prepared by skilled chefs. From the tangy chaats of Delhi to the succulent kebabs of Lucknow, the gastronomic journey at Dilli Haat is a delight for the taste buds.
6. Cultural Performances
Dilli Haat reverberates with the soulful tunes of traditional music and dance performances. Talented artists from across the country showcase their skills on the open-air stage, enthralling the audience with their vibrant performances. From classical Kathak to lively Bhangra, these cultural performances add an enchanting element to the overall experience.
7. Promoting Handicrafts and Artisans
Dilli Haat plays a significant role in supporting and promoting India's diverse artisan community. By providing a platform for craftsmen to showcase their talent and sell their products directly to customers, Dilli Haat empowers artisans and contributes to the preservation of traditional arts and crafts.
8. Events and Festivals
Throughout the year, Dilli Haat hosts various events and festivals, celebrating the rich tapestry of Indian culture. These events range from craft exhibitions and folk festivals to dance and music competitions. Such celebrations attract a larger audience and offer visitors a chance to witness the vibrancy and diversity of Indian traditions.
9. Sustainability Initiatives
Dilli Haat actively promotes sustainable practices and eco-friendly initiatives. The use of renewable energy sources, rainwater harvesting, and waste management systems are some of the measures implemented to minimize the environmental impact of the marketplace. These initiatives aim to create a greener and more sustainable future for future generations.
10. Impact on Local Economy
Dilli Haat is an economic driver, generating employment opportunities for artisans, vendors, and support staff. The marketplace contributes to the local economy by attracting domestic and international tourists, who not only spend on crafts and food but also contribute to the growth of nearby businesses.
11. Tourist Attraction
Dilli Haat has become a must-visit destination for tourists seeking an authentic cultural experience in Delhi. Its unique blend of crafts, cuisine, and performances has made it an iconic landmark that reflects India's diverse and vibrant spirit.
12. Tips for Visitors
To make the most of your visit to Dilli Haat, here are a few tips:
Plan your visit during weekdays to avoid crowds.
Bargain politely while shopping but respect the artisans' craftsmanship.
Try out different regional cuisines for a complete culinary experience.
Check the event calendar to catch cultural performances or festivals during your visit.
13. Challenges and Future Prospects
While Dilli Haat continues to thrive as a cultural hub, it faces challenges such as rising rental costs and competition from modern shopping malls. To sustain its legacy, efforts must be made to enhance marketing strategies, infrastructure, and the overall visitor experience. By embracing technology and adapting to changing consumer preferences, Dilli Haat can remain a significant contributor to India's cultural heritage.
14. Conclusion
Dilli Haat stands as a vibrant symbol of India's cultural heritage, offering visitors an immersive experience that encapsulates the essence of the country. From its diverse crafts and delectable cuisine to its mesmerizing performances, Dilli Haat celebrates the richness and beauty of Indian traditions. So, whether you're a local or a traveler, don't miss the opportunity to explore this cultural extravaganza.
Read More Related blogs
FAQs
Is Dilli Haat open every day? Yes, Dilli Haat is open every day of the week, including weekends and public holidays.
Are there entry fees for visiting Dilli Haat? Yes, Dilli Haat has a nominal entry fee for visitors, contributing to the market's maintenance and promotion.
Can you bargain with the vendors at Dilli Haat? Yes, bargaining is common at Dilli Haat, but it is important to do so politely and respect the artisans' craftsmanship.
Are there any specific timings for cultural performances? Cultural performances at Dilli Haat usually occur in the evenings, starting around 6:00 PM. However, it's advisable to check the schedule before your visit.
Can I find products from different states of India at Dilli Haat? Yes, Dilli Haat showcases a wide range of products from different states of India, allowing visitors to explore and purchase regional crafts and artworks.